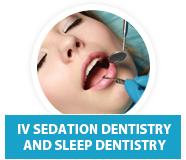 by the Sedation Dentist in Rockville Maryland
The cost of Sedation Dentistry depends on the complexity of the case, the cost of laboratory work and materials, the length of the sedation visits and other factors such as the patients medical history.  Often with larger more complex cases the IV Sedation Dentistry costs may be complimentary.
Sedation dentistry is dentistry done while a patient is comfortably sedated and in a position to tolerate the treatment well.
There are various forms of Sedation Dentistry. From Oral Sedation to Full IV Sedation Dentistry we offer both options to provide a quick and painless appointment.
Is sedation dentistry covered by dental insurance?
If you have Sedation Dentistry coverage and the procedures are covered by your Dental Insurance Plan.
The best way to find out is to come in for a no cost consult so we can check your insurance coverage and determine what treatment is necessary.
Sedation Dentistry is a safe and some cases more safe than dentistry performed without sedation. Our standard practice is that each patient will have their medical history reviewed and we'll explain treatment options best suited for each case.
Please prepare a ride to and from your appointment. You shouldn't operate a vehicle for 24 hours after sedation.
Oral Sedation Dentistry is sedation using a medication by mouth where a medication such as Valium is swallowed to achieve a sedative effect.  It typically takes 45minutes to an hour to take effect and additional doses may be necessary depending on the tolerance of the patient.
Nitrous Oxide or Laughing Gas Sedation is the use of a combination of Nitrous Oxide and Oxygen Gas for Sedation Dentistry.  Nitrous Oxide can be used in combination or another Sedative such as Valium or it may also be used prior to IV Sedation Dentistry.
You cannot eat or drink for 12 hours prior to IV Sedation Dentistry or Oral Sedation Dentistry.  You can eat and drink before Nitrous Oxide or Laughing Gas Sedation.
Oral Sedation Dentistry takes longer, is less predictable and cannot be reversed easily.  IV Sedation Dentistry is fast, the level of sedation can be easily adjusted, it is very predictable and in most cases can be easily be reversed.  Generally, IV sedation dentistry is the sedation method of choice for patients with higher levels of anxiety.
Nitrous Oxide or Laughing Gas Sedation sets in very quickly, is very effective for mild to moderate anxiety, is very non-toxic and it wears off very quickly with little to no hang-over effect.  A patient could have sedation and 30 minutes later drive a car.
 sedation dentistry faq