Sedative Dentistry Techniques and Options: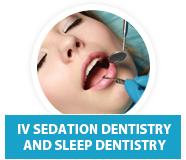 Dental sedation is an increasingly popular option for our busy patients, patients who have difficulty getting numb, have a severe gag reflex and for patients with dental related fear or extreme dental anxiety (also sometimes called dentophobia or odontophobia).
In cases where patients opt for oral dental sedation, your sedation dentist will typically give you a medication to take an hour before your procedure. In cases of IV dental sedation, Dr Gary Adams, your sedation dentist,  will monitor your blood pressure and heart rate before administering an IV and any necessary local anesthetic.  Dental sedation does not block the body's pain receptors, so patients are still given any local anesthetics that they would otherwise receive, had they not opted for dental sedation.
Patients who are "put to sleep" with IV sedation are accompanied at all times by a Dr Gary Adams. We ask that our sedation patients find an escort to provide them with a ride to and from their appointment. If it makes a patient more relaxed and comfortable, that patient is welcome to keep their escort nearby during the dental sedation procedure.
Please feel confident in the knowledge that Dr. Adams completed a rigorous training under an anesthesiologist and testing before being allowed to conduct this type of sedation dentistry. Your comfort, safety and health are our priority at Maryland Sedation Dentist.
After a dental sedation appointment is over, we urge our patients to head home for the rest of the day.  Now is as good a time as any for patients to catch up or binge watch their favorite shows on Netflix, but there's one catch: You might not end up remembering much of it.
Our dental sedation patients typically don't remember much about their appointments with us and that is a good thing.
In the days following a procedure in which a patient was sedated, it is often the case that patients heal more quickly than patients who did not opt for dental sedation. It is our experience that our sedation patients generally recover more quickly and experience fewer complications. We believe it's possible that this is the case because our sedation patients are so relaxed during their procedures.
Hopefully this article answered questions about What to expect during and after sedation dentistry.