Implant Dentistry under Sedation in Burtonsville Columbia MD
Dr. Gary Adams, our sedation implant dentist is a implant expert who sedates for teeth implants. Our full sedation dental clinic is an implant center in Burtonsville near Silver Spring and Columbia Maryland. Tooth implants are a wonderful option for permanent tooth replacement. We perform implant surgery for single tooth implants up to a full mouth of implants with All on 4 Implants. Naturally, dental surgical procedures can be scary and cause anxiety in some individuals. Research shows people under sedation for dental work experience comfort, calmness and have far less pain after implant surgery. We are one of very few dentists who sedate in the Maryland, DC and Virginia metro area. Sedation implant dentists have many options: full sedation, twilight and dental NO2 gas can be used depending on the complexity of the implant case and how anxious that patient is about the tooth replacement procedure.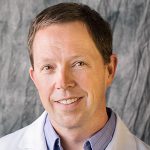 Dr. Adams is a sedation implant dentist who has placed thousands of implants under IV sedation. "my goal is to perform your implant procedure under sedation quickly, carefully and safely with as little trauma as possible while you sleep comfortably through the procedure…only to wake up when it is all done."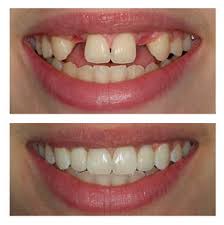 single implants is the best way for a sedation implant dentist to replace a single tooth.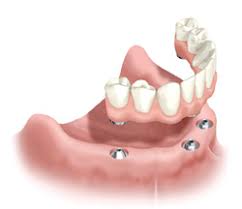 All on 4 is the most practical way for a sedation implant dentist to replace a full upper or lower arch or row of teeth.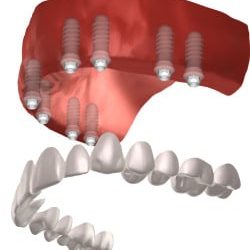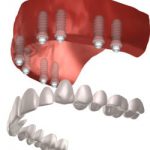 You can replace all your teeth with a full mouth of dental implants.
  Sedation Implant Dentistry Options
Full Sedation / IV sedative or IV sedation dentist
Oral Sedation dentist, dental sedatives such as diazepam, halcion, etc.
N02 Twilight sedation, aka Laughing gas sedation
The sedation implant dentist will evaluate your case, your level of anxiety and your medical history. The sedation dentist then will then determine what level of sedation is best for you.
 Implant Sedation Services:
Metal Free Zirconia Dental Implant Sedation
Conventional Titanium Implants
Bone grafting surgery
Permanent implant bridges aka All on 4 Dental Implants
Platelet Rich Fibrin aka PRF for dental implants
Tooth removal and oral surgeon services
Implant dentures and implant bridges
Benefits of Full Dental Implant Sedation Surgery:
Decreased anxiety as the patient remains calm and comfortable throughout the surgery
Patients who are more relaxed during a procedure experience less pain
Implant surgery with sedation leads to less stress for the dentist. The implant specialist can focus better and work more quickly and effectively with a calm patient.
Sleep sedation allows for longer procedures where more work can be done. Procedures that may take several appointments can be done in one visit under intravenous sedation.
Sleep dentistry can allow for several teeth to removed, bone grafting and several implant placements all in one visit.
Sedated patients can get procedures done more quickly with less pain after the procedure and in many cases get a better result.