Porcelain Veneers and Crowns under Sleep Sedation Dentistry in Rockville and Burtonsville MD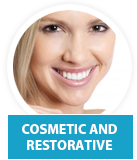 The benefits of cosmetic dentist procedures such as porcelain veneers and cosmetic dental implants can be rewarding. Often fear of the dentist, dental anxiety, gagging or difficulty getting numb can scare people away from their Cosmetic Dental Cases.
Cosmetic Sedation Dentist Pictures:
Porcelain Cosmetic Veneers
no one dental procedure can transform an old, worn-down smile faster than cosmetic porcelain veneers done by a skilled and talented cosmetic dentist. A good cosmetic dentist is hard to find. Routine dentistry is a completely different skill than cosmetic dentistry. Cosmetic dentistry is both a difficult, inexact and subjective art and a complex biomechanical medical science. The subjectivity is because not every person wants the same smile. Communication and setting expectation about what the smile will look like is very important.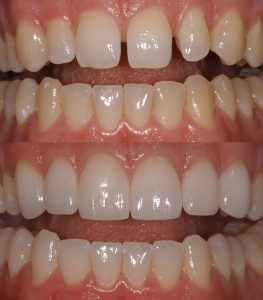 Porcelain and zirconia crowns are sometimes necessary when the entire outer part of the teeth are worn down and the smile needs to totally be built up. In fact, most smile re-designs need crowns than veeners. Very rarely do teeth only wear on the edges of front teeth. Repair of the edges of teeth and spaces between is what veneers are good at doing. Usually teeth are worn down by a functional TMJ-TMD problem. The entire outer surface of the teeth wears down like the tread of a tire. Porcelain crowns rebuild the entire outer layer of the teeth. If the cosmetic dentist does the case properly, the new teeth will not only look gorgeous, but also function properly, so the teeth do not wear down again.
Treatment of worn, broken and cracked teeth under Full IV Sedation Dentistry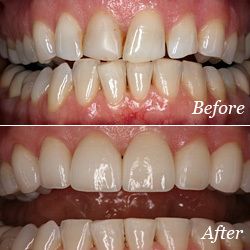 We all want a beautiful smile, but sitting through 10-20 teeth being prepared for cosmetic dentistry and porcelain crowns is not fun for the patient and not easy for the dentist. Sedation sleep dentistry is a wonderful tool to make things go a lot smoother during the cosmetic dental appointment. Lets face it too, dental appointments can be scary too when getting even one tooth done. Sedation dentistry is recommended when treating many teeth in one dental appointment as we need to do when doing porcelain and zirconia metal-free crowns or veneers.