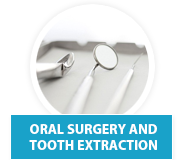 Maryland sedation dentist offers wisdom tooth removal and impacted wisdom teeth removal with full sedation dentistry options in Rockville and Burtonsville Maryland. Wisdom teeth extractions can be stressful so, naturally, these procedures are better tolerated under some form of dental sedative drugs. Oral surgery patients having oral surgeon procedures with sedation experience comfort, calmness and have far less pain after their appointments. We do tooth removal by appointment and will perform same-day emergency wisdom tooth removal procedures when patients are in pain.
Wisdom Tooth Removal Procedures Under Sedation:
Full Bony Wisdom Tooth Removal
Partial Bony Impacted Wisdom Tooth Removal
Soft Tissue Impacted Wisdom Teeth Removal
Surgical Erupted Wisdom Tooth Removal
Advantages of Dental Sedatives with Wisdom Teeth Removal:
Decreased anxiety as the implant patient remains calm and comfortable throughout the implant surgery
Patients who are more relaxed during a procedure experience less pain after the implant placement
Implant surgery with Sedation leads to less stress for the implant specialist. The implant dentist can focus better and work more quickly and effectively with a calm patient.
Sedation for Implants allows for longer procedures where more work can be done. Procedures that may take several appointments can be done in one visit with implant sedation.
Implant Sedation can allow for several teeth to removed, bone grafting and implant placements all in one visit.
Sedation patients can get dental implant procedures done more quickly with less pain after the procedure and in many cases get a better result.
Sedation provided for Oral Surgeon Services:
Fully Impacted Wisdom Tooth Removal
Soft Tissue Impacted Wisdom Teeth Removal
Bone and Gum Grafting
Extractions of Cracked and Broken teeth
The Sedative Dentist will evaluate your case, your level of anxiety and your medical history. The Dental sedation specialist will determine what level of Sedation Dentistry is best for you.
Sleep Sedation Dentistry Options for Wisdom Tooth Removal:
Full sedation dentistry aka Full intravenous IV sedation with dental sleep sedative drugs
Oral Sedation with Sedatives such as Halcion, Valium aka Diazepam, Ativan
Aroma therapy and natural supplements such as vitamin C and glutathione
Warming pillows
Lots of TLC and positive affirmation during wisdom tooth removal
Fast, strategic and smooth wisdom tooth extraction technique.